Welcome to our Mosquito Lagoon Cottage Web site!
We have a cottage in Oak Hill, Florida on a deep water canal on the Intracoastal Waterway and the incredible Mosquito Lagoon. This is also a part of the area known as the Indian River Lagoon. If you are not familiar with the Mosquito Lagoon, I have more information about the Mosquito Lagoon on this site. The Mosquito Lagoon is a great place for fishing (especially for redfish), shrimping, and just enjoying cruising the waterways in your boat.
We are offering the use of our furnished cottage as a vacation rental or "holiday home" for weekly and monthly rentals.
If you are visiting the area, why not stay here instead of a hotel or motel.
Our cottage has three bedrooms and two bathrooms. The master bedroom has a king size bed. Bedroom two has a full size bed and bedroom 3 has a bunk bed with a twin bed on top and a full size bed on bottom. The living room has a futon sofa giving it the ability to sleep 9 people. The living room has a 25" television with a DVD player and the master bed room has a 19" television. Both are hooked up to cablevision. Wireless high speed internet is also available.
The kitchen is complete with dishwasher, stove, refrigerator with ice maker, toaster oven, toaster, coffee maker, and microwave as well as cooking utensils, pots and pans, plates, glasses, and eating utensils. If you prefer to grill outside we also have a gas grill with side burner that you may use.
We are a family friendly establishment and can cater for families with young children by providing a highchair or travel cot upon request.
It backs up to a canal that leads to the Intracoastal Waterway. You may tie your boat up to the d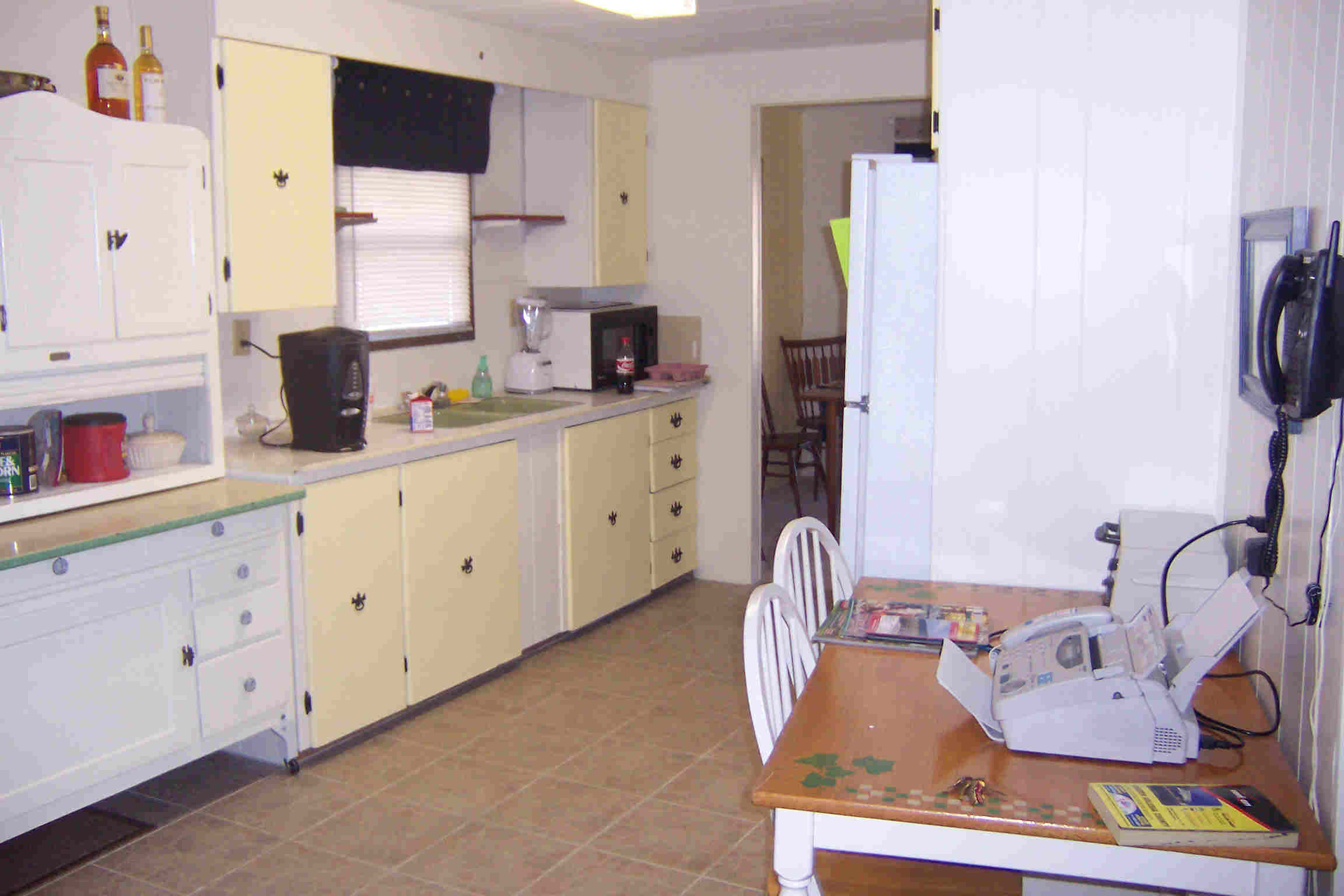 ock on our property. Come cruise the waterways - see the manatees, dolphins and pelicans or boat over to a local waterfront restaurant.
I like to start my day with breakfast at the Country Kitchen restaurant which is a 1/4 mile walk from the cottage. They serve a very nice (but not necessarily healthy) breakfast. They normally have a $2.99 special for 2 eggs, 2 sausage or eggs, and 2 pancakes which is my normal choice.
For lunch I enjoy taking the boat to JB's Fish Camp. JB's is a very popular restaurant and bar located on the barrier island side of the lagoon. You can get there by boat but be careful of shallow water. There is a big sandbar in the bend of government cut. They have several spots to dock your boat. They also rent kayaks if you are interested.
One could walk across the island to the Ocean from JB's but I prefer to go south from JB's a little less than a mile to the boat ramp on the national park. From here it is a very short walk across the island to the Atlantic Ocean. My kids really enjoy playing on the beach and boogie boarding at this location. Please note that you should pay the park entrance fee at the toll booth where cars enter the park which is pretty close to the boat ramp.
Another great place to enjoy the water is to boat the the famous Disappearing Island at Ponce Inlet. It does take about an hour to get there but it is well worth the trip. On a weekend there will be tons of boats tied up at the island. I have some photos taken there in the photo gallery. Of course this isn't the only place to enjoy the water but is the most popular.
Another good restaurant that you can boat to is Goodrich's Seafood. This restaurant is on the water a little south of the cottage. They have outside dining looking over the lagoon. It is a fun place to have dinner and watch the boats going up and down the Intracoastal.
I haven't even mentioned what this area is most famous for - Fishing! Mosquito Lagoon is famous for its red fishing. It is also a very popular place to go shrimping.
This is a very sheltered area with ver
y little tidal fluctuation. There is a public boat ramp at Riverbreeze Park a short distance away. You can cruise the intracoastal waterway, fish the Mosquito Lagoon, or head out into the Atlantic Ocean through Ponce inlet.
If you want to spend time at the beach, New Smyrna Beach is about 10 miles north of here. It is a very nice beach that not many tourists know about. It is the "local" beach
that many people from Orlando frequent.
If you want more of the touristy flair, World Fam
ous Daytona Beach is just north of New Smyrna Beach.
Of course Daytona Beach is also home to the infamous Daytona 500, the related speed weeks, and bike week.
We are also just North of Cape Canaveral and the Kennedy Space Center. You can take a tour of the Space Center and see where Man launched to see the moon and the Space Shuttles. You will have a wonderful view of a launch if you are lucky enough to be here during a launch. Check out the pictures of a Space Shuttle launch viewed from Mosquito Lagoon on the photo gallery page.
And we can't forget what Central Florida is famous for, our theme parks. Disney World, Universal Studios, and Sea World are all only 65 minutes away.
This is a non-smoking home.
If you are looking for a vacation home, cabin, cottage or lodging in Oak Hill, Volusia county, Florida near Daytona Beach, New Smyrna Beach, Titusville, Cocoa Beach, and Orlando for bike week, Daytona 500, or any other time of the year that has a Boat Dock and Boat Rental, with access to the intracoastal waterway, Mosquito Lagoon, and Atlantic Ocean, this is the place for you!